Studio Wolke produces moving images for television, advertisement and internet. Recently also short films for theatres. The award winning movie ›Gelato – Seven Summers of Ice Cream Love‹ was screened on more than 100 short film festivals all over the world and was awarded by the German Film and Media Board with ›Especially Valuable‹.
Curious with empathie, bold and love for details Studio Wolke finds smart solutions for each new challenge. The often time tempting and elaborate work within animation films won´t be seen in the end. Behind Studio Wolke stands Daniela Opp an animation director with a Diploma in animation and many years of experience.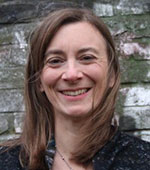 Daniela Opp, born in Toronto, studied at Hochschule für bildende Künste Hamburg (College of Arts) and lives with her family in Hamburg.